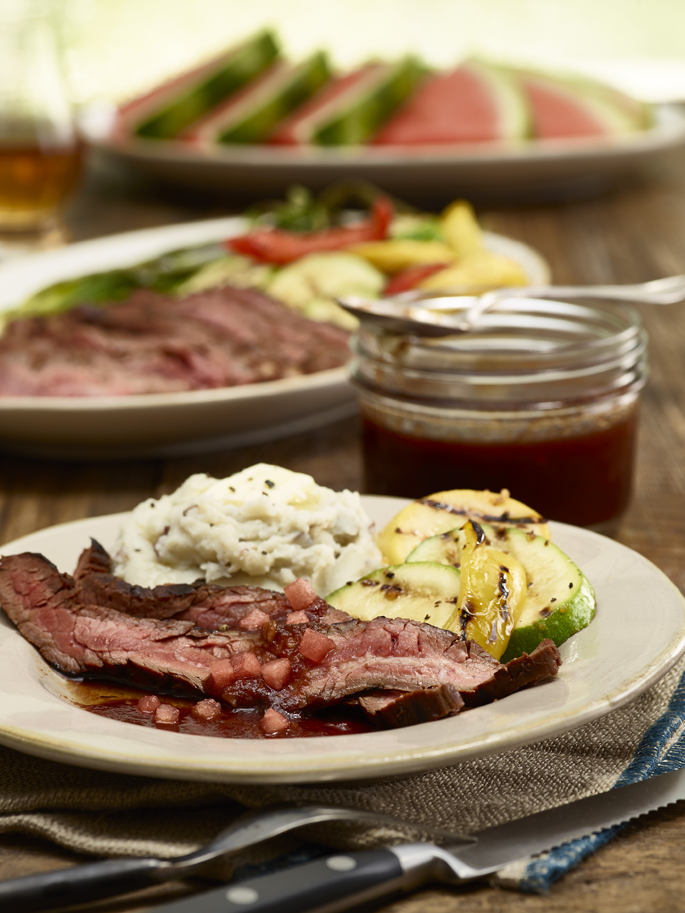 Flank Steak with Watermelon Bourbon Glaze
This flavorful steak pairs well with mashed potatoes and grilled vegetables.
Ingredients
1 1/2 cups watermelon juice (approximately 2 ½ cups chopped watermelon blended)
1 tablespoon minced garlic
1/4 cup low-sodium soy sauce
1/4 cup brown sugar
1 teaspoon Tabasco sauce
1/4 – 1/2 cup bourbon
2 pounds flank steak
1/4 teaspoon cornstarch
Instructions
1. Place watermelon juice in a medium saucepan over medium-high heat and reduce to 2/3 cup. Toward the end of the reduction, add the garlic. Remove from heat, cool for 10 minutes, then add the soy sauce, sugar, Tabasco, and bourbon. Mix well.
2. Place the watermelon-bourbon glaze mixture in a large zip-lock back. Add steak and massage to cover the meat. Close bag and refrigerate for a minimum of 1 hour, 3 to 4 hours is better.
3. Heat grill on high. Remove steak from plastic bag and gently shake to remove excess glaze.
4. Place steak on grill and cook for 4 to 6 minutes, turn, grill for an additional 4 to 6 minutes (time will depend on thickness of steak). Remove from heat. Steak should be pink in the center. Allow steak to rest on a platter or cutting board for 10 minutes, while preparing the glaze.
5. While steak is grilling, remove a small amount of glaze and mix with cornstarch. Add to the rest of glaze and heat to medium high/high in a small saucepan to simmer for 3-5 minutes. Then reduce to medium and heat until mixture thickens. Remove from heat.
6. Cut flank steak on the bias into thin strips. Drizzle watermelon-bourbon glaze over the top. Recipe makes excess of glaze.
Nutrition
Serving size: 1 serving
Calories per serving: 325
Fat per serving: 11.9g
Saturated fat per serving: 5g
Fiber per serving: 0.4g