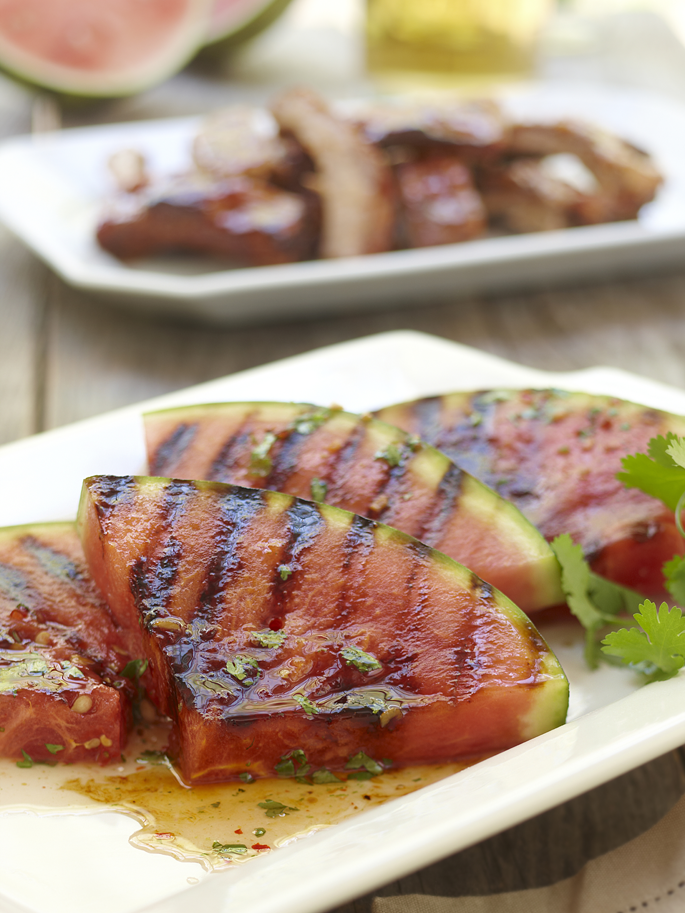 Grilled Spicy Watermelon
Transform watermelon from sweet to savoury with this mouth watering Thai-inspired sauce. Watermelon wedges are grilled until caramelized, drizzled with garlic chili sauce and garnished with cilantro. Serve as a side dish along with ribs, chicken or shrimp.
Ingredients
1 tablespoon lime zest
1/4 cup lime juice
1/4 cup honey
2 teaspoons garlic chili sauce
pinch salt
1 watermelon, medium sized
1 tablespoon fresh chopped cilantro
Instructions
Preheat grill to high. In bowl, whisk together lime zest, juice, 3 tbsp (45 mL) of the honey, garlic chili sauce and salt.
Cut watermelon into 1-inch (2.5 cm) thick wedges. Lightly drizzle each side with remaining honey and place on grill. Grill until just browned, about 2 minutes per side. Place watermelon slices on a plate and drizzle with lime dressing. Garnish with cilantro.