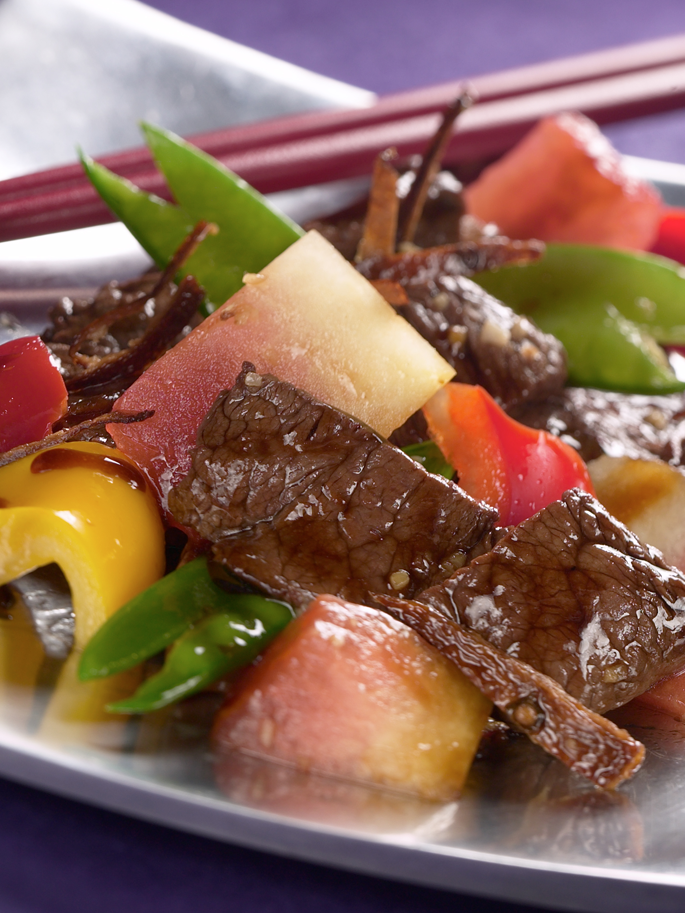 Watermelon and Beef
(5 A Day Certified) Recipe by: Joseph K. Poon for the National Watermelon Promotion Board.
Ingredients
1/2 pound lean sirloin tip beef, sliced
1 cup watermelon, sliced
1 tangerine peel, soaked in sherry
1/2 cup snow peas
1/4 red pepper, cubed
1/4 yellow pepper, cubed
1/4 red onion, cubed
1 teaspoon garlic
1 teaspoon ginger
1 tablespoon soybean oil
Instructions
Marinade Sauce
1/2 tablespoon soy sauce (lite)
3 tablespoons port wine or red wine
1/4 cup water
1//2 teaspoon sesame oil
1 teaspoon cornstarch
Sauce for Stir Fry
1//2 cup water or veal stock
1/2 teaspoon oyster sauce
1/2 teaspoon lite soy sauce
1 teaspoon sugar
3 tablespoons port wine or red wine
1 tablespoon hoisin sauce
1/2 teaspoon cornstarch, dissolved
3 drops sesame oil
1. Mix together marinade ingredients and marinate the beef for at least 30 minutes.
2. Sauté beef in non-stick pan over medium-high heat until brown on all sides.
3. Heat up the soybean oil in a wok or large sauté pan, add garlic, ginger, tangerine, and watermelon and sauté for 30 seconds.
4. Add all vegetables, stirring constantly to sweat the onions, and peppers.
5. Stir in the sauce without cornstarch and bring to a boil.
6. Pour in dissolved cornstarch thickening the sauce, add beef and mix thoroughly.
7. Finish with the drops of sesame oil and decorate on plate.
Serving Ideas: Use a piece of triangular cut watermelon for garnish.
Note: Beef must marinate for at least 30 minutes.